Join me for an inspiring evening about How to Change Careers at 40 (or later) - part of the How to Change Careers series of Live Events. Meet successful career changers and network with your peers.
Live Event on Thursday 11/21 in Santa Monica
Do you feel called to do something more with your life…but you are not sure what?
Do you want to change careers but are stuck on what the next steps are?
Do you worry about being "too old," or facing ageism in the job market?
Do you find yourself torn between sticking with what you do now (and invested years and money to build) and wishing you could just start over?
Remember being in your twenties and thinking people in their forties were "old" or had it all figured out, or must be completely settled? Now you are in your 40s, 50s, 60s or older, and you find that you still want to be creatively challenged, do work you love and make a difference.
In fact, sometimes getting older increases your desire to contribute: as you achieve the goals you had earlier in life, discover what is most meaningful to you, or come face to face with the fact that after years of toil you are still unhappy in your current role, changing careers at 40 or later can be one of the most powerful and rewarding things you do.
How can you pursue a career change – especially if you are not sure what you want to do – at midlife or later? Career changers in their forties, fifties and sixties have some of the same challenges as their younger counterparts, but also additional needs including facing societal attitudes towards aging. But older career changers can also have more resources, starting with an expanded network, more work experience and resilience.
Join me for Repurpose Your Purpose's How to Change Careers at 40 (or later) - Thursday November 21st in Santa Monica, CA.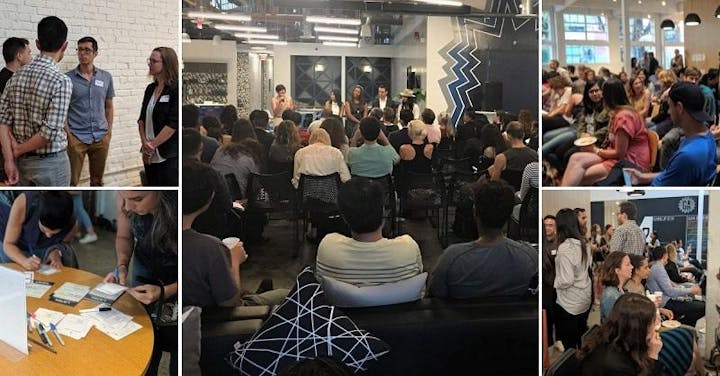 ARE YOU READY TO MAKE A LIVING DOING SOMETHING THAT YOU LOVE?
No BS, no fluff, come ready to:
Learn how to find a fulfilling career that WORKS FOR YOU
LEARN FROM SUCCESSFUL CAREER CHANGERS who changed careers at 40 or later and landed successfully
Expand your NETWORK
Stay for an INTERACTIVE activity to unlock YOUR career transformation
We'll talk about:
The CHALLENGES and ADVANTAGES of changing careers at 40 or later
How to FIND what to pursue next
What changing careers is REALLY like – no fluff!
MONEY and changing careers
What SUCCESS looks like – and how to choose what success is for YOU
How to leverage previous EXPERIENCE and KNOWLEDGE in a new career
and more!
MEET AND HEAR FROM PROFESSIONALS AND ENTREPRENEURS WHO CHANGED CAREERS IN THEIR FORTIES TO PURSUE PROFESSIONS OR BUSINESSES THAT THEY LOVE AND FEEL PASSIONATE ABOUT.
Psst: This is NOT going to be your typical panel discussionRSVP
Meet the Panelists of How to Change Careers at 40 (or later):
MITCH MIDDLER has been designing and developing software for over 25 years. Specializing in applications for the digital film and video industries, he has contributed development and design efforts to popular Apple products such as Shake, Motion and Final Cut Pro X. During his tenure at Apple he was awarded several patents in areas ranging from user interface design to image processing algorithms. Prior to joining Apple he co-founded the visual effects studio Station X Studios in Santa Monica, California, which was acquired in 2000. Most recently he has redirected his efforts toward teaching computer science. Current course offerings include high school AP Computer Science and college level introductory programming and data structures classes.
AMANDA WANG VALENTINE helps motivate and shift change at scale. She began her career in venture capital, sell-side research and investment banking; later moving to business development and operations, and always focused on the technology & media sectors. After 19 years, she realized that her interests lay in launching and growing cutting-edge digital health technologies. She observed a need to help people shift from a "should be" mindset to a how it "could be" when it comes to adopting new technologies. She steeped herself in behavioral science and psychology, and combining them with her background in finance and business development, she learnt how to motivate groups and grow innovative solutions and approaches. Today she works on changing government culture to be more customer focused and she is the co-founder of MotiSpark, a digital health startup platform that builds personalized interactive videos to motivate healthier behavior.
MARTINE G. BROUSSE is a healthcare industry expert with over two decades of medical billing management experience and the founder of AdvimedPro, a patient advocacy company based in Culver City, CA. Using her extensive experience as a billing manager, she transitioned to a career helping clients reduce medical bills, resolve insurance payment issues and defend their rights. Her insider knowledge of processes and regulations guides them through a complex system to their best advantage and offers creative solutions for the management of their costs. Martine is also a certified mediator, and has negotiated hundreds of financial agreements on behalf of providers, patients and insurance companies. She gets results through negotiation skills, the understanding of legal options and outside-the-box thinking. Martine lectures on managing the financial burden of medical care, especially that of cancer, aiming at educating and empowering patients. She mentors budding advocates, and is often asked to contribute to news reports relating to healthcare costs by news media.