December 3, 2020
How to Change Careers over 40
Join me for an inspiring evening about changing careers later in life. Learn from the real-life experience of three career changers.
Please Note: General Assembly will be hosting us on Zoom – Link will be sent closer to the event date
Do you feel called to do something more with your life…but you are not sure what?
Do you want to change careers but are stuck on what the next steps are?
Do you worry about being "too old," or facing ageism in the job market?
Do you find yourself torn between sticking with what you do now (and invested years and money to build) and wishing you could just start over?
Sometimes getting older increases your desire to contribute: as you achieve the goals you had earlier in life, discover what is most meaningful to you, or come face to face with the fact that after years of toil you are still unhappy in your current role, changing careers over 40 can be one of the most powerful, scary, courageous, and rewarding things you do.
How can you pursue a career change – especially if you are not sure what you want to do – at midlife or later?
Join me as I talk to:
Find more details and RSVP here.
---
From the very start, I committed to creating How to Change Careers events, inviting career changers to a space where they could have the in-depth conversation missing in their lives. A space free of judgement, where everyone feels welcome. I called these experiential events How to Change Careers and created a consistent format to foster insights, inspiration and connection.
I hosted the very first How to Change Careers experiential event in December 2017 and I have continued to feature amazing career changers who generously agreed to tell their stories. I have met wonderful new people, solidified existing relationships and learned a whole lot myself.
Repurpose Your Purpose's How to Change Careers events are always inspiring and often challenge our assumptions about what it takes to find a fulfilling career.
Watch video recordings of past events.
As I continue to expand and create connection among career changers, I invite you to join us online!
Remember…Opportunities are everywhere!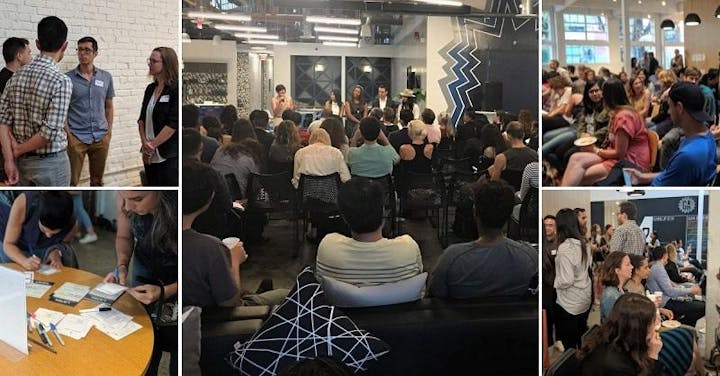 For all events and workshops, see here.