From the very start, I committed to creating How to Change Careers events, inviting career changers to a space where they could have the in-depth conversation missing in their lives. A space free of judgement, where everyone feels welcome. I called these experiential events How to Change Careers and created a consistent format to foster insights, inspiration and connection.
I hosted the very first How to Change Careers experiential event in December 2017 and I have continued to feature amazing career changers who generously agreed to tell their stories. I have met wonderful new people, solidified existing relationships and learned a whole lot myself. Repurpose Your Purpose's How to Change Careers events are always inspiring and often challenge our assumptions about what it takes to find a fulfilling career.
As I continue to expand and create connection among career changers, I invite you to join us online!
Remember…Opportunities are everywhere!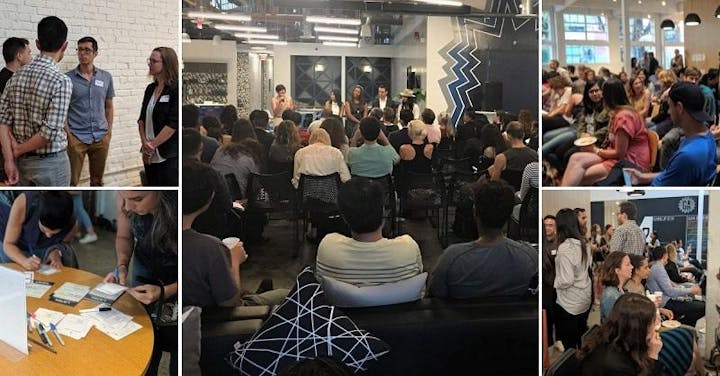 For all events and workshops, see here.
---
May 7, 2020
How to Change Careers: Alternative Energy
An inspiring evening about changing careers & working in alternative energy. Online panel discussion + meet fellow career changers.
As we go through a global crisis, the way we work is changing. And the work needed during and after this time is changing as well, calling us with more urgency. Some of us might even feel a stronger push to make a difference. If you are looking for a career that helps the planet, I invite you to explore the field of alternative energy. There are many different types of opportunities available in this niche, but growing field, and I invited 3 career changers to join me to discuss live what it took them to take the leap and create a fulfilling career.
How can you pursue a career change – especially if you are not sure what you want to do – at a time of global crisis? By leaning into the changes happening in the world. We are at a crossroads and many things will now evolve – let's contribute our skills, passion and drive to participate in this evolution.
Now more than ever we feel it's a time to gather (online) and to have deep conversations – while remaining hopeful and engaged with the type of future we are want to bring about.
No BS, no fluff, come ready to:
Learn how to find a fulfilling career that WORKS FOR YOU
BE INSPIRED by Career Changers who changed careers and now love what they do
Dive DEEP into what it's like to be in-between your old and new life
Stay for an INTERACTIVE activity to meet fellow Career Changers
We'll talk about:
How to FIND what to pursue next
What changing careers is REALLY like
Possibilities in the ALTERNATIVE ENERGY field of work
MONEY and changing careers
Jobs of the FUTURE – why the job you seek might not have existed before
How to leverage previous EXPERIENCE and KNOWLEDGE in a new career
The CHALLENGES of changing careers during a global pandemic
and more
Meet and hear from professionals and entrepreneurs who changed careers to pursue professions or businesses that make a difference.
Psst: This is NOT going to be your typical panel discussion.
---