From the very start, I committed to creating How to Change Careers events, inviting career changers to a space where they could have the in-depth conversation missing in their lives. A space free of judgement, where everyone feels welcome. I called these experiential events How to Change Careers and created a consistent format to foster insights, inspiration and connection.
I hosted the very first How to Change Careers experiential event in December 2017 and I have continued to feature amazing career changers who generously agreed to tell their stories. I have met wonderful new people, solidified existing relationships and learned a whole lot myself. Repurpose Your Purpose's How to Change Careers events are always inspiring and often challenge our assumptions about what it takes to find a fulfilling career.
As I continue to expand and create connection among career changers, I invite you to join us online!
Remember…Opportunities are everywhere!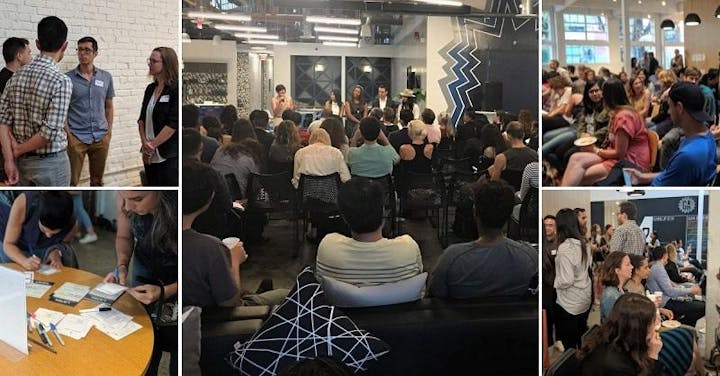 For all events and workshops, see here.
---
May 28, 2020
How to Change Careers: Become a Solopreneur
An inspiring conversation about changing careers & working as a Solopreneur. Online panel discussion + meet fellow career changers.
If you are exploring working for yourself, this is the event for you. I invited 3 career changers who work as Solopreneurs to share their journey to entrepreneurship. A Solopreneur is a business owner who works alone, and might occasionally contract the work of freelancers or other solopreneurs as needed. Each of the panelists works completely online, which means they are location-independent. From writing for non-profits, to developing apps and consulting with top companies, discover how they make it work, even in this economy.
What does it take to discover what you want to do…and take the leap? We will talk about the inner and outer work needed to change careers and become self employed. Should you take the leap and quit your job? What about building a business on the side? Or maybe you have no choice…you lost your job and now it's sink or swim.
No BS, no fluff, come ready to:
Learn how to find a fulfilling career that WORKS FOR YOU
BE INSPIRED by Career Changers who took the leap and now love what they do
Dive DEEP into what it's like to transition between old and new careers
Learn from REAL people who are working for themselves
We'll talk about:
What it's like to FIND what to pursue as a self-employed person
What being a SOLOPRENEUR is really like
How to overcome IMPOSTOR'S SYNDROM
What it's like to work ONLINE
How to leverage previous EXPERIENCE and KNOWLEDGE into a business
MONEY and starting your own business
and more
Meet and hear from three Solopreneurs who changed careers and are now working for themselves.
Psst: This is NOT going to be your typical panel discussionREGISTERAdd Button
---